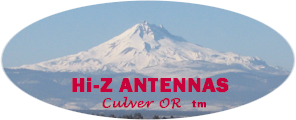 Triangular 3 Element Receiving Array System
All New, only One Model Covers 40 to 50 Feet Element Spacing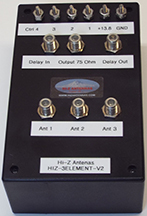 HIZ-PC-3A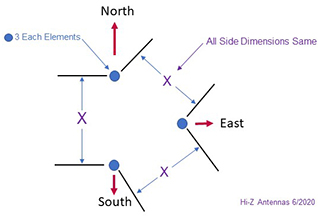 New Element Layout
The very Heart of the new 3 Element Receiving array is this New Model Phasing Controller.
The Super Accurate HIZ-PC-3A combines 3 short Vertical element signals making 6
selectable receiving directions. This array system has been designed to provide excellent
Signal to noise ratio compared to a typical Low-Bands Transmitting Vertical.
The Array Provides Up to 10 dB RDF and as much as 30 dB Front to Back ratio
from below 160 meters to 40 meters and usable patterns to 30 meters and above.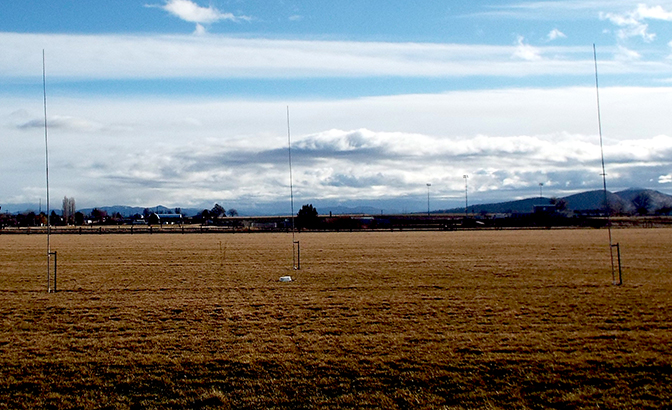 Test 3 Element Array installed at K7TJR using the same insulated verticals used for
the very First Successful High Impedance Phased Array designed here.
Camera is looking just a little South of Due East. White box contains
the HIZ-PC-3A and the HIZ-PREAMP-75-V2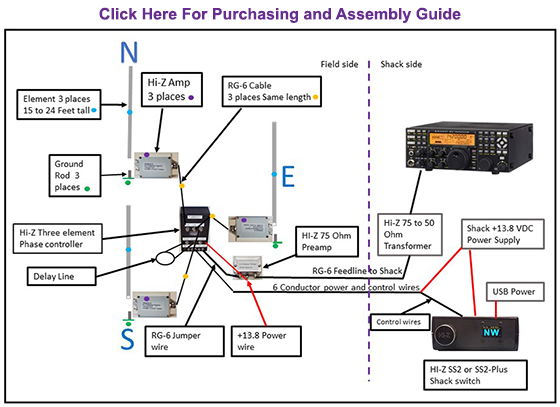 Specifications
RDF Up to 10 dB.

Front to Back ratio up to 30 dB.

Covers 160, 80, 40 meters, usable to 30 meters and above

6 selectable directions

Power usage +13.8 VDC at 150 ma.

Uses a 6 conductor control cable
Hi-Z Products are all ordered from DX Engineering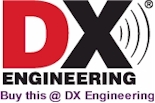 https://www.dxengineering.com/