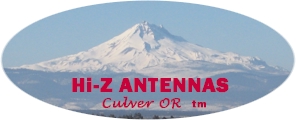 Hi-Z Antennas
Universal Shack Switch Replacement
HIZ-SS2-PLUS Manual or USB Remote Direction Control



The front view size is 4 ½ X 1 5/8 inches Depth is 4 ½ inches including Knob and output connector.
· Works with any Hi-Z receiving ARRAY through convenient push button selection
· Features a very intuitive Menu system
· Features USB control by most standard format rotor control logging programs
· Can be used without computer control
· Features a clear 1.3 inch diagonal video type display with blue readout
· Features an adjustable screen Brightness
· Features 360 degree forward or reverse continuous direction knob
· 8 Optically isolated outputs available (Each uses an FET switch to isolated ground)
· Unused outputs can be switched on and off locally (not by USB)
· Computer inputs are operated off USB power while isolated switch side requires 13.8 VDC
· Features a scan mode that steps through all directions locally (not by USB)
· Features a FLIP mode for 180 degree Front to back type observations (not by USB)
· Azimuth can read out in degrees or direction like N, S, E, and NE etc.
· Elements with a compass installation offset from normal N to S can be offset
· Features a display screen saver with adjustable on time extending the life of the display
· Features 2 relay test modes with serial walking outputs or all selectable outputs
. Features a USB voltmeter mode to test the USB cable
· Features a rear panel set of screw terminals for control lines and power.
· Features a Micro USB B connection for internal power and digital control by computer
· This is the widely used charging cable used with smart phones and simple cell phones
· Features output switches protected against over voltage or reverse voltage with MOVs+
· Readout displays Requested angle and Actual angle available from array
· Readout displays status for all 8 relays 0=off 1=on
· Readout displays which Hi-Z Array is selected
· Display information is configurable for more or less items
· Configuration remains stored while power is off

Download Manual here

Download Product Release here