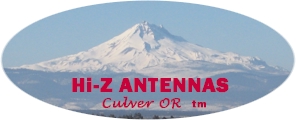 What's NEW at Hi-Z
Effective 11/20/2015
All Hi-Z product ordering we be through DX Engineering's website. On all Hi-Z product pages on this website, including vertical elements and accessories you should find links pointing directly to DX engineering's website. This should make ordering very easy.
With DX Engineering's large inventory you should be able to order everything necessary to install a complete Hi-Z system. This includes Verticals, cables, and all Hi-Z systems.
Other questions and queries should be addressed to Contact
New Digital display Shack switch

Local and digital USB control for ANY Hi-Z array
Click the image above for Information.
Crystal clear display of Direction selected
New Remote and Local Controlled
Receiving Antenna Coaxial Switches
Huge Research going on at Hi-Z now in more new products!
Click DX Engineering Logo for Link
Website E-Mail